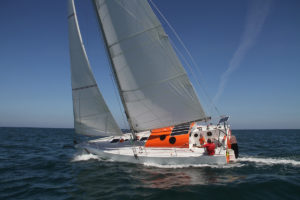 «It happened on a Thursday. It was 24 March 2022 and I was attending the premiere of the Into The Wild festival in Wavre with some friends. On the bill was Bertrand Piccard's film Solar Impulse.
I had already decided to take part in the Global Solo Challenge a few months earlier, with the idea of finding a boat that I could adapt to meet my zero-carbon vision of the challenge.
When I arrived, my friend Pierre Yves Martens, director of Yachting Sud magazine and also co-organiser of the festival, said to me: "Ed, I think I know the boat you need.
It's the Solaire 34 built by Jacques Riguidel, she's in Nieuwpoort and I think she's for sale."
The evening continued pleasantly, because it must be said that the adventure was there.
Then came the film presented by Bertrand Piccard, who explained to us why Solar Impulse was necessary, and it was like bingo in my head.
It was the impetus I needed to say "now I'm going".
The following Sunday I met André Robberecht, the boat's new owner, and by Monday the deal was done.
The SolarWind project was definitely born.
Afterwards, I sent a message of thanks to Bertrand and quite naturally he became the godfather of the adventure and the boat.»
SolarWind features
Designed by David Réard
Built by Jacques Riguidel in epoxy plywood
Model name "Solaire 34"
Completed in 2014

34 feet X 3,45 m

Weight: 4 tonnes, one of which is in a bulb suspended from the keel at 2.5 m
The boat of a clever Breton sailor